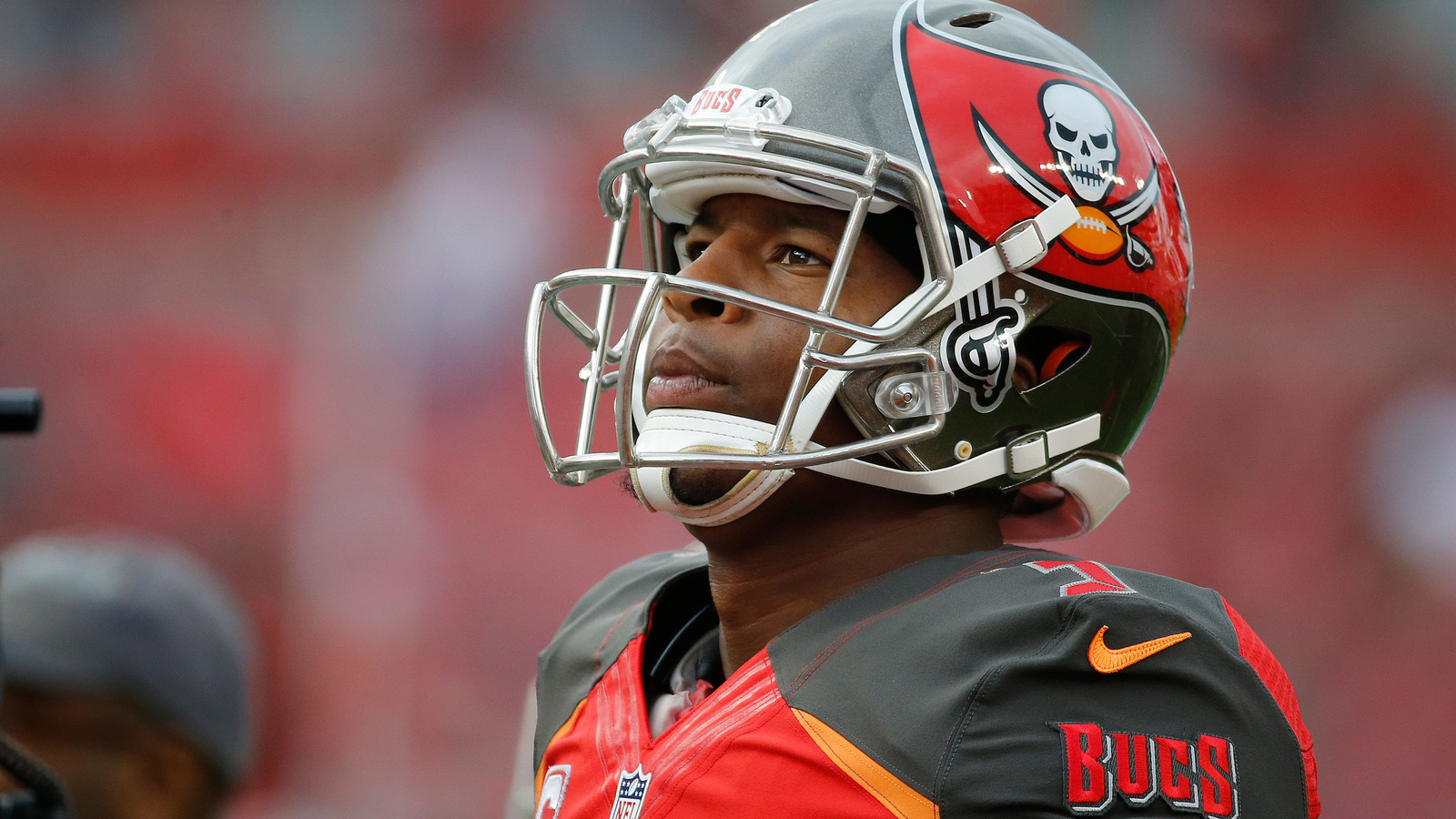 Dec 11, 2016; Tampa, FL, USA; Tampa Bay Buccaneers quarterback Jameis Winston (3) looks up while he works out prior to the game against the New Orleans Saints at Raymond James Stadium. Kim Klement-USA TODAY Sports
Talent. Potential. Most NFL players have these things in abundance. But far too often players with high expectations fail to live up to the hype. Looking ahead to the 2017 season, we're looking at boom-or-bust players who have the potential to greatly improve their team's chances, or hurt them.
Among these players is a quarterback who's already been deemed the answer by many. But we're not totally convinced he's ready to take the required next step.
We'll also be looking at some highly skilled receivers, running backs and defenders who all have the ability to break games open. But questions remain about their ability to do so in any sort of consistent way.
These 32 players all fit the mold of boom or bust for their respective teams ahead of the 2017 season.
Arizona Cardinals: Robert Nkemdiche, defensive end
The Cardinals took a bit of a risk drafting this former Ole Miss star in the first round last year. He recorded just one tackle as a rookie and will now be tasked with taking over for Calais Campbell, now with the Jacksonville Jaguars. Those are huge shoes to fill. Whether Nkemdiche has the discipline and stamina to do it for 16 games is a huge question facing him and the Cardinals in 2017.
Atlanta Falcons: Takkarist McKinley, defensive end
This talented, speedy rookie out of UCLA could further transform Dan Quinn's defense into a juggernaut. Though, as we covered recently, he's being held back from fully participating in camp as he recovers from offseason surgery. General manager Thomas Dimitroff hopes he will be a "full go" by Week 3 in the preseason. But time off is often devastating for rookies. Meaning, it might be another year before McKinley is ready to be an impact player in Atlanta.
Baltimore Ravens: Breshard Perriman, wide receiver
The Ravens have been hoping Perriman would be able to become a star ever since he was selected in Round 1 back in 2015. An injury forced him to miss his entire rookie season. Then last year, Perriman played in all 16 games but only managed 33 catches for 499 yards and three touchdowns. Now he'll be competing for targets with Jeremy Maclin. It's put-up or shut-up time for this former UCF star.
Buffalo Bills: Tyrod Taylor, quarterback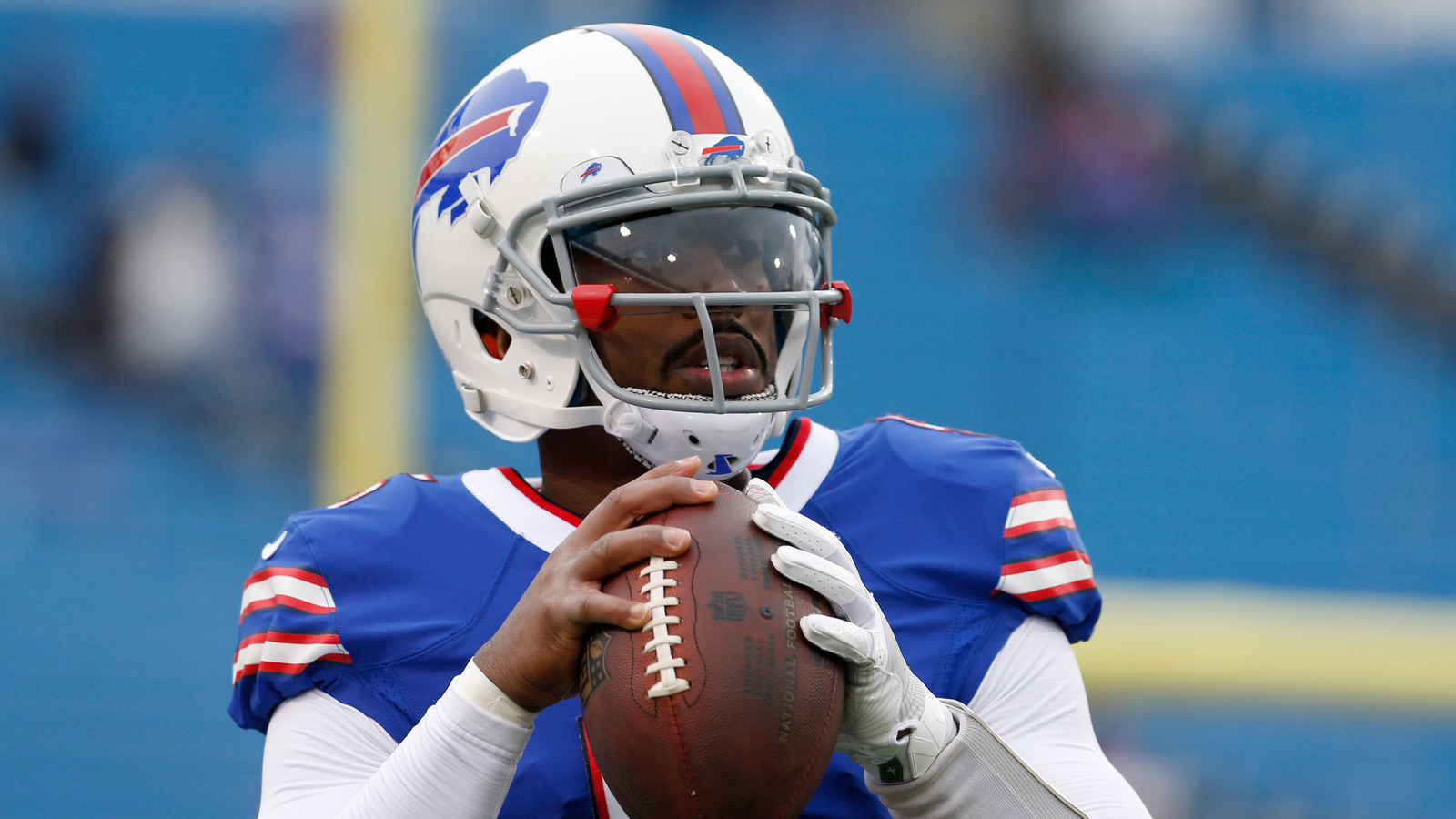 Timothy T. Ludwig-USA TODAY Sports
The Bills had no small amount of internal debate about whether to keep Taylor or let him go this offseason. They cut his contract into tiny pieces after eventually letting him stay. Now he has to prove he's capable of playing out a 16-game season while improving upon his abilities as a pocket passer. This team hasn't made the playoffs since 1999 and is desperate for change.
Carolina Panthers: Curtis Samuel, slot receiver
One of the most electric college players last year, Samuel showed his worth as a receiver at Ohio State, catching 74 passes for 865 yards and seven touchdowns. Now that he'll be a full-time slot receiver for Carolina, he has a chance to help transform the Panthers offense and help keep Cam Newton healthy. Though, it's one thing to make big plays against college linebackers and quite another to do it at the NFL level where everyone is fast, not to mention, darn good.
Chicago Bears: Mike Glennon, quarterback
It won't surprise anyone if Glennon is benched in favor of No. 2 overall pick Mitch Trubisky at some point this season â?? no matter what the Bears are saying publicly. Glennon had a solid rookie season in 2014 before losing his job to none other than Josh McCown in 2015. Then came Jameis Winston. Now he needs to win some games, or it's going to be hard for John Fox to abstain from seeing what his rookie can do.
Cincinnati Bengals: John Ross, wide receiver 
If Ross can stay healthy, then he should be a tremendous addition for Cincinnati's offense. His ability to take the ball to the house on any given play â?? be it short pass or deep ball â?? makes him a dangerous complement to A.J. Green. But staying healthy has been very hard for Ross to do, and he's not even going to be ready to practice until August after undergoing offseason shoulder surgery.
Cleveland Browns: Jabrill Peppers, safety 
Ken Blaze-USA TODAY Sports
There wasn't any real consensus before the draft about how effective Peppers will be in the NFL. Talent has never been an issue. And he was a dynamo for the Wolverines. But at 5-foot-11 and 211 pounds, he is too small to play linebacker, where he thrived at Michigan. He'll be one of those hybrid safeties that have been making their way into the league recently, and it remains to be seen if his skills will translate to the NFL game.
Dallas Cowboys: Taco Charlton, defensive end
How long has it been since the Cowboys featured a dominant pass rusher? It's been a while, that's for sure. So it was not surprising when Jerry Jones and Co. took Charlton No. 28 …
Read Original Post at
http://www.yardbarker.com/nfl/articles/boom_or_bust_players_for_each_nfl_team_in_2017/s1_12680_24419257

Sports Media 101 searches and spiders for news it aggregates from across the web about your favorite sport or sports team. This article is originally posted at another site not affiliated with Sports Media 101. The portion of the article posted here is to provide a sample of the content available at the linked site. Please click the link to read the full article. Sports Media 101 does not claim any ownership to the content and all rights are retained by the original copyright owner.
Tags:
Alshon Jeffery
,
Ameer Abdullah
,
Arizona Cardinals
,
Atlanta Falcons
,
Baltimore Ravens
,
Buffalo Bills
,
Carolina Panthers
,
Carson Wentz
,
Chicago Bears
,
Cincinnati Bengals
,
Cleveland Browns
,
Dallas Cowboys
,
Dan Quinn
,
Denver Broncos
,
DeSean Jackson
,
Detroit Lions
,
Green Bay Packers
,
Houston Texans
,
Indianapolis Colts
,
Jacksonville Jaguars
,
Jameis Winston.
,
Jamison Crowder
,
Jeremy Shockey
,
John Fox
,
John Ross
,
Josh McCown
,
Kansas City Chiefs
,
Kyle Shanahan
,
Los Angeles Chargers
,
Los Angeles Rams
,
Marshawn Lynch
,
Miami Dolphins
,
Minnesota Vikings
,
Mitch Trubisky
,
New England Patriots
,
New Orleans Saints
,
New York Giants
,
New York Jets
,
NFL
,
Oakland Raiders
,
Odell Beckham
,
Philadelphia Eagles
,
Pittsburgh Steelers
,
Seattle Seahawks
,
Takkarist McKinley
,
Tampa Bay Buccaneers
,
Tennessee Titans
,
Terrelle Pryor
,
Thomas Dimitroff
,
Washington Redskins
,
Western Michigan Broncos